There are now 15 laws on the books in China that provide for the use of exit bans, with five laws either added or amended this year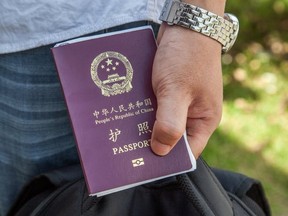 Article content
China says it's now open for business following years of implementing a "COVID-zero" policy, but recent reports indicate that the country has been increasing "exit bans," both for citizens and foreign executives.
Article content
Citing a recent report by NGO rights group Safeguard Defenders, and its own analysis, Reuters reports a recent surge of exit bans has led to court cases and growing concern from foreign business lobbies.
According to Laura Harth, campaign director of Safeguard Defenders, there are now 15 laws on the books in China that provide for the use of exit bans, with five laws either added or amended this year.
According to the report, exit bans are being used to "punish human rights defenders and their families, hold people hostage to force targets overseas to come back to China, control ethnic-religious groups, engage in hostage diplomacy and intimidate foreign journalists."
MP Michael Chong a symbol of how little Trudeau cares about protecting Canadians from Chinese interference

Chinese man who published videos of overcrowded hospitals during COVID to be released after three years
Article content
In April, China amended its Counter-espionage Law, allowing for exit bans on anyone under investigation, or on Chinese nationals if deemed a potential national security risk after leaving the country.
"In the absence of transparent official data and excluding ethnicity-based exit bans, which number in the millions, we estimate that at least tens of thousands of people in China will be placed on exit bans at any one time. Many of these exit bans are illegitimate and violate the Universal Declaration of Human Rights' principle of Freedom of Movement," notes the Safeguard Defenders report.
A study published last year in the peer-reviewed journal Thunderbird International Business Review found 128 cases of foreigners being exit-banned between 1995 and 2019, including 29 Americans and 44 Canadians. During that same period, at least 41 foreign business people were subject to exit bans.
Article content
The Safeguard Defenders report highlights the case of Irish businessman Richard O'Halloran, who was barred from leaving the country for more than three years as the company he worked for was involved in a commercial dispute. O'Halloran was not working for the company when the dispute started.
"In some cases, the targeting of foreigners is part of Beijing's hostage diplomacy, a tit-for-tat retaliation aimed at a foreign government or a tactic to extract concessions," the report notes.
The US State Department advises those thinking of traveling to China to consider their plans "due to arbitrary enforcement of local laws."
It also notes that the PRC government has used exit bans to compel individuals to participate in PRC government investigations, pressure family members of the restricted individual to return to the PRC from abroad, resolve civil disputes in favor of PRC citizens, and gain bargaining leverage over foreign governments.
Article content
The Canadian government also urges travelers to "exercise a high degree of caution," and notes that travelers may be unaware they've been placed on an exit ban until they attempt to leave the country. The advisory adds that it's difficult to obtain information on bans from Chinese authorities.
Another case highlighted in the report focuses on Xie Fang, the wife of business owner Yu Miao, whose Shanghai-based bookstore sold titles on politics and law. The couple relocated with their children to the US in 2018 after closing the business.
Xie Fang then returned to the country last year to visit her sick mother. She has not been allowed to leave since, with authorities stating that her exit ban will only be removed if her husband, who is suspected of posting articles online from the US, returns to China.
Article content
In another case, Americans Daniel Hsu and siblings Cynthia and Victor Liu were given exit bans to force their fathers, who were suspected of economic crimes, to return to China. In Hsu's case, the ban prevented him from leaving for four years, while the Lius remained in China for three years.
Citing a Chinese judicial report, Safeguard Defenders says at least 34,000 people were also placed under exit bans between 2016 and 2018 for owing money, a 55 per cent rise from the same period three years earlier.
China's President Xi Jinping is also reported to be using exit bans to target foreign journalists, with at least four known cases of foreign journalists being targeted, or threatened with, exit bans since 2018.
"Since Xi Jinping took power in 2012, China has expanded the legal landscape for exit bans and increasingly used them, sometimes outside legal justification," the report reads.
Article content
A Reuters analysis of records on exit bands, sourced from China's Supreme Court database, also shows an eight-fold increase in cases of mentioning bans between 2016 and 2022.
"At a time when China is proactively trying to restore business confidence to attract foreign investment, the exit bans send a very mixed signal," the European Union Chamber of Commerce in China told Reuters in a statement.
According to Lester Ross, a lawyer in China who has worked on exit ban cases, the risk of being placed on an exit ban for foreign executives has risen as tensions between China and the US increase.
"I've seen a rise in companies and entities being concerned about this and asking for our advice on how to prepare and reduce risks," Ross said.
In an interview with Reuters, Xiang Li, a Chinese rights activist, said the PRC government can "find any reason to stop you from leaving the country."
Li, who now lives in the US under asylum after escaping China in 2017, added that the country does not "have the rule of law."
"The law is used to serve the purposes of the Chinese Communist Party," he said. "It's very effective."