Donald Trump is expected to be represented at his first court appearance to face federal criminal charges for retaining national security materials and obstruction of justice by two of his existing lawyers, despite trying to recruit a local Florida lawyer willing to join his legal defense team.
The lawyers making an appearance with Trump on Tuesday will be the top former federal prosecutor Todd Blanche and the former Florida solicitor general Chris Kise, according to people familiar with the matter. Trump's co-defendant, his valet Walt Nauta, will be represented by Stanley Woodward.
Trump and his legal team spent the afternoon before his arrangement interviewing potential lawyers but the interviews did not result in any joining the team in time for Trump's initial court appearance scheduled for 3pm ET on Tuesday after several attorneys declined to take him as a client.
Trump has also seemed unable to find a specialist national security lawyer, eligible to possess a security clearance, to help him navigate the Espionage Act charges.
The last-minute scramble to find a veteran trial lawyer was a familiar process for Trump, who has had difficulty hiring and keeping lawyers to defend him in the numerous federal and state criminal cases that have dogged him through his presidency and after he left the White house.
After interviewing a slate of potential lawyers at his Trump Doral resort, the former president settled on having Kise appear as the local counsel admitted to the southern district of Florida as a one-off, with Blanche being sponsored by him to appear pro hac vice, one of the people said.
Blanche and Kise had dinner with Trump and other advisers on Monday at the BLT Prime restaurant at the Doral.
Among the Florida lawyers who turned down Trump was Howard Srebnick, who had expressed an interest in representing the former president at trial as early as last week in part due to the high fees involved, but ultimately was not allowed to after conferring with his law partners , the person said.
The other prominent lawyer who declined to work with Trump was David Markus, who recently defended the Florida Democratic gubernatorial candidate Andrew Gillum against charges that he lied to the FBI and funneled campaign contributions into his personal accounts, the person said.
Trump and his team have interviewed the corruption attorney Benedict Kuehne, who was indicted in 2008 for money laundering before the charges were dropped, the person said. But he has his own baggage as he faces disbarment for contempt of court in a recent civil suit he lost.
The other interviews are understood to have been with William Barzee, as well as Bruce Zimet, the former chief assistant US attorney in Fort Lauderdale and West Palm Beach.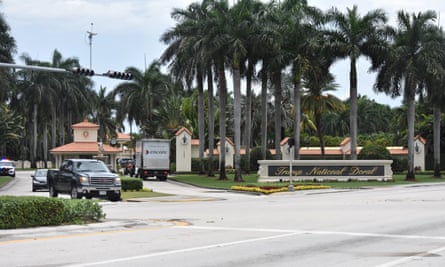 Part of the problem of recruiting new lawyers has been Trump's reputation for being a notoriously difficult client who has a record of declining legal advice and seeking to have his lawyers act as attack dogs or political aides rather than attorneys bound by ethics rules, people close to the process said.
The other concern for the top lawyers in Florida being contacted by Trump's advisers has been the perceived reputational damage that could come from defending the former president, the people say, not just because of his politics but also because of the strength of the indictment, which could potentially lead to years in prison.
By using Trump's own taped admissions about retaining national defense information and the witness accounts of his employees, the indictment gave compelling evidence of Trump's efforts to hoard the country's most sensitive secrets and obstruct the government's attempts to get them back.
Trump is said to still be searching for a lawyer in the mold of Roy Cohn, the ruthless New York fixer who defended and mentored him before he was later disbarred – and the fear of potentially being asked to take similar actions has been a persistent issue.
That fear has loomed large for numerous lawyers Trump's advisers have contacted, the people say, in particular after Trump might have made Evan Corcoran, another former lawyer who withdrew from his defense in the Mar-a-Lago documents investigation, into a witness against him .
According to the indictment, after Trump was issued a subpoena last year seeking the return of any classified documents, Trump took steps to remove boxes of documents from a storage room that Corcoran intended to search through in order to find materials responsive to the subpoena.
The steps Trump took to have those boxes removed from the storage room, an episode now at the heart of the obstruction charge, caused Corcoran to certify a false certification to the justice department confirming that no further documents were at the property, the indictment said.
As Trump's search for new lawyers in Florida continues, Blanche is expected to take the lead role in the Mar-a-Lago documents case in addition to leading the team defending Trump against state charges in New York for paying hush money to an adult film star in 2016.
Though Kise is expected to appear alongside Blanche in federal district court in Miami, he has primarily handled civil litigation for Trump since he came off the documents case last October and is not expected to be on the trial team proper, a person familiar with the matter said.
The scramble to find Florida lawyers came after Jim Trusty and John Rowley, the two remaining Trump lawyers after the earlier resignation of Tim Parlatore and the recusal of Corcoran, became the latest casualties of a legal team undermined by turmoil and infighting, the Guardian previously reported .